I'm going to try my hand at a weekly theme, and see how it works for me. So, welcome to my very first Thrifty Thursday. If I stick with it, each Thursday (ideally) I'll showcase something (or many things) that I've purchased at thrift/second-hand stores, garage sales, etc.
This week: Vintage Mira Fujita Print
A couple of weeks ago, my boyfriend and I were looking around at Value Village. I usually linger at the front and work my way back slowly, but my boyfriend bee-lined to the back to check out the larger items. He came back to the front to find me carrying a huge 27x39x.5 inch board (he had the front to him). I watched him curiously as he then flipped it around in a
*TADA*
like motion, and my jaw dropped. It was gorgeous! I honestly had no clue who Mira Fujita was (and from what I can tell from my looking around on the interwebs, not a lot of people do), but I really loved the piece, and wanted it instantly. For it's age (1984), it only had minimal wear that I didn't mind at all. It was only $6 dollars!
After we brought it home, I cleaned it up, moved some things around, and hung it up.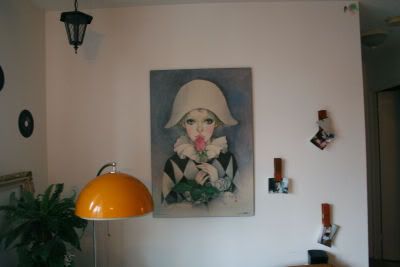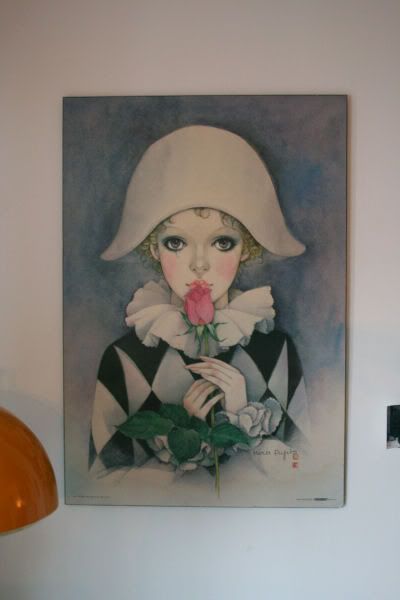 For fun I decided to do a little research with the info:
Mira Fujita - Charming Harlequin - printed in Germany (scan decor) 1984
. Surprisingly there seems to be a shortage of information on this woman and her work, and on eBay anything Mira Fujita seems to go for quite a hefty sum, compared to the thrifty price I paid, because of how difficult it is to find her work.
So, needless to say, this was a great find, and I am more than happy to have this piece in my home. I love it! ♥
Have you ever picked up anything at a garage sale or local thrift shop, and found out after that it was worth much more than the nickles and dimes you paid? Share!